Introduction:  This is intended as a summary of the week in cannabis investing – both what's new in cannabis and what I've been writing about on Seeking Alpha and on The Growth Operation.  If you have any suggestions for the format – or for the graphic above – please let me know in the comments.
Thanks!
– Jon
~
Contents:
A Difficult Week For Cannabis Investors
Aurora Debuts on the NYSE; Aphria Will Follow
Initiating Coverage of the U.S. Cannabis Market
Early Signs of High Demand and Low Supplies
Tracking Cannabis Sales – Real-World Data
~
1. A Difficult Week For Cannabis Investors
It's been a difficult week for cannabis investors, with shares of every company above losing money. As a whole, the Canadian and American cannabis markets are both down 22% and the ETFs HMMJ.TO (HMLSF) and MJ are down 17% and 15%, respectively. (Both ETFs contain non-cannabis companies that I don't track, including companies like Scotts Miracle-Gro (SMG), which out-performed the cannabis market by losing 7%.)
This is what I said on Monday in the Cannabis Daily News from 10/22 on The Growth Operation: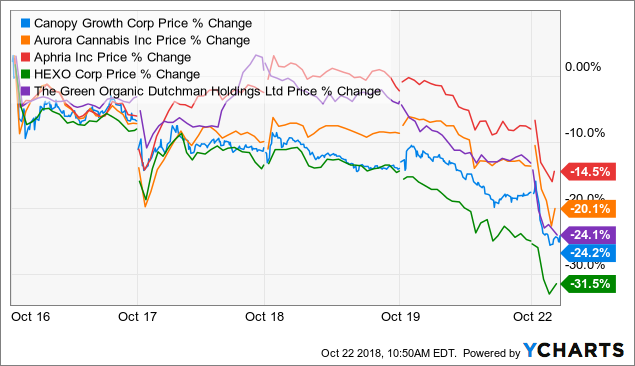 I don't typically comment too much on short-term stock price movements, but it has been a brutal past few days across the cannabis sector, including today.
There's no clear catalyst for this downward movement that I can see. Instead, it looks to be the mirror of the run-up into legalization – also on no real news. In both cases, the markets moved without any news that affected the fundamental value of the underlying businesses. This was likely due to the huge increase in visibility of the industry in the days leading up to legalization, and now some shorter-term traders are cycling out of the sector.
These rise-and-fall stock cycles have happened before and will happen again. This sector is volatile and will continue to be volatile as we head into earnings from the first partial quarter of legalization in a few months and beyond.
But nothing fundamental has changed here. The long-term growth story for cannabis is in tact: This is a drug that people have used for thousands of years, even though it has been illegal, and that is just recently being offered legally to the public and as an investment for investors. And that legal market will grow once other nations see how well legalization and taxation works.
Expect further run-ups, especially on rumors of US legalization news. Expect further downturns as well, especially after any initial fervor of news wears off, or as investors realize how long it might take for the cannabis market to reach maturity in Canada (approx. 3-4 years, using Colorado and Washington as a guide).
Please invest in this market carefully – limit your position sizes and diversify investments – and limit your overall exposure to cannabis based on your risk tolerance. This has been a rough week, and there's no guarantee the next week will be better. However, the long-term story here is in tact, and even the falls of the past few days should be put into context: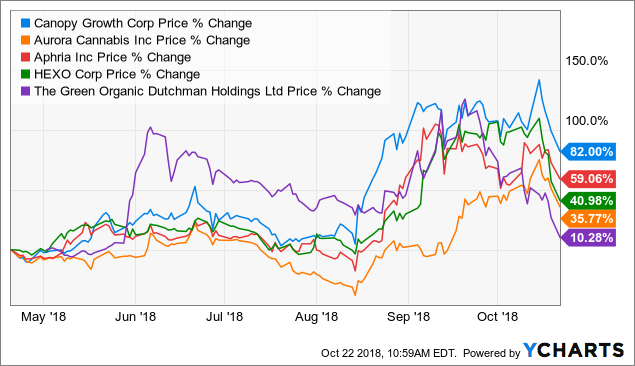 Even with these declines, the last three months have been very good.
Invest cautiously – we could see further declines – but also realize that these declines may offer attractive entry points for new positions.
~
2. Aurora Debuts on the NYSE; Aphria Will Follow
In "The NYSE Welcomes One Of Ontario's Most Popular Cannabis Brands – Aurora Cannabis", I wrote about the NYSE debut of Aurora Cannabis (ACB).  Aurora is the fourth Canadian cannabis to debut on American markets, following in the footsteps of Canopy Growth (CGC), Cronos (CRON), and Tilray (TLRY).
Aurora will be followed to the NYSE by Aphria (APHQF), as I briefly discussed in "After Aurora Comes Aphria: Canadian Cannabis On The NYSE".  After that article, Aphria was been approved to join the NYSE: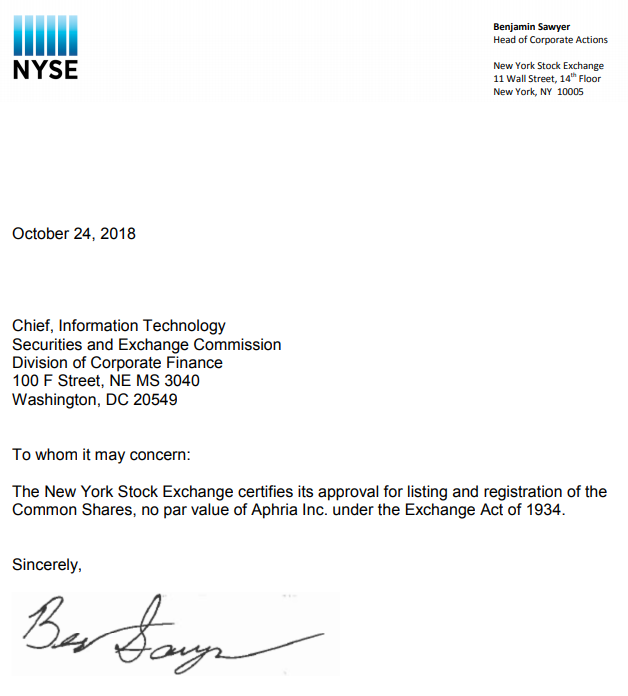 (SEC.gov; covered in the Cannabis Daily News on 10/25)
About one week ago, Aurora (OTC:ACB) received the same letter (10/17) as Aphria (OTCQB:APHQF) here. Aurora issued a press release the next day (10/18) when their trading date was confirmed and began trading within a week (10/23).
As shown above, Aphria received this letter on 10/24.  They have yet to announce a first trading day – or issue a press release.  They are likely to issue a press release as soon as they find out when their first trading day is.  Expect that press release early next week, and for a U.S. listing shortly thereafter.
~
3. Initiating Coverage of the U.S. Cannabis Market
I have been broadening my coverage to include the American market recently.  Initially, I only wrote about Canadian stocks, but I have initiated coverage of some larger American names over the past couple weeks, including articles on:
I'm planning to continue this coverage in the coming week with upcoming articles on Green Thumb Industries (GTBIF) and Charlotte's Web (CWEB).
~
4. Early Signs of High Demand and Low Supplies
I have been preaching the gospel of initial shortages for many months.  As far back as January 8, I said:
"When Washington state legalized cannabis, prices were initially very high due to short supply, but have now fallen more into line with other US states.

Canada may follow a similar path. Initially, prices may be very high, which will result in lost sales as people choose to abstain or choose to continue using unregulated cannabis. However, over time, I would expect prices to fall as supply rises to meet demand."

What Will The Canadian Recreational Marijuana Market Look Like? (Jan 8)
Last month, I described that "Canada could face shortages of cannabis until ~2020."
Well, here we are:

(Montreal Gazette, October 26, 2018)
In Quebec, retail cannabis stores will be forced to close their doors from Monday to Wednesday due to supply shortages.
"Beginning Monday and until further notice, the dozen SQDC stores in Quebec will be closed Monday to Wednesday and open during scheduled operating hours from Thursday to Sunday.

The decision to reduce the operating schedule came after supply problems — present from the day the stores opened on Oct. 17 — grew increasingly worse throughout the week.

As of Friday morning, more than 50 of the 68 products listed for sale on the SQDC's website were out of stock. The agency hopes the new schedule will allow outlets to "stabilize" their inventories."
What does this mean for cannabis investors?
Well, first – this has long been expected.  This is not a surprise to savvy investors.
Second, this means that companies that have high production today/soon will benefit.  All cannabis companies are likely to be able to sell all their inventory and all their production until supply catches up with demand – which is unlikely until ~mid-2019, at the earliest.
This will benefit companies like Hexo (HYYDF), whom I wrote about earlier today in "HEXO: The Cannabis King Of French Canada (With Napkin Math)" (via The Growth Operation, but an abbreviated free version may be posted early next week).  Hexo's entire production is set to come online in December 2018.
Another obvious beneficiary here might be Canopy Growth – who already has the highest production and will expand that production even further soon.  I last covered Canopy Growth in "Canopy Growth: The King Of Cannabis Doesn't Come Cheaply" (Sep 12) and they remain a core part of my cannabis portfolio.
Companies whose production is coming online in mid-to-late 2019, or worse, 2020, may not see the benefits from this shortage.  One example might be The Green Organic Dutchman (TGODF).  In "Aurora And TGOD Break Up: Who Does This Harm?", I wrote:
"TGOD will not have significant cannabis production until ~mid-2019, which is also when a lot of other producers – who do have relationships with provincial distributors – will have a lot of production.

Recently, there have been a lot of warnings that Canadian cannabis supplies will be short early in legalization – today alone, there were warnings from Aphria (OTCQB:APHQF) and Canopy Growth (CGC). As a result, production capacity today is very valuable – you can sell everything you can grow. Production capacity in ~nine months? Probably a lot less valuable."
I wrote even more on this topic on The Growth Operation in "The Green Organic Dutchman: In Depth" (Oct 9).
~
5. Tracking Cannabis Sales – Real-World Data
I have also started the process of tracking cannabis sales.  In "Cannabis Sales Data By Company, Brand, And Price Point" (via The Growth Operation, Oct 22), I tracked online cannabis sales for each company in Ontario over a three day span.  I briefly touched on this in "The NYSE Welcomes One Of Ontario's Most Popular Cannabis Brands – Aurora Cannabis" (Oct 23) as well.
This week, we have even more data from before – the timelines are longer and there is data from other provinces as well.  I plan to spend the weekend crunching numbers to see which products are selling well and which are selling poorly.
Expect to see that coverage late this weekend or early next week on The Growth Operation.  I am hopeful that this process will allow for early insights into which brands are selling well and which companies are able to ship the most cannabis to the provinces – perhaps a preview of future revenue.
~
Until next time, happy investing!